Not only is Calendula officinalis a spectacular ornamental for the garden bed, but it has a tremendous variety
of medicinal and even culinary uses, making it a definite winner in any herb or medicinal garden.
These herbaceous little seasonal showstoppers form soft pale green foliage and flat, disk almost daisy-like blooms. They are available in double and single forms and whilst the original and most common colours include shades of yellows, creams and oranges to gold's, newer variants and cultivars promise dwarf as well as larger plants boasting colours of near-red and even up to mahogany.

With anti-inflammatory, anti-fungal, antimicrobial, antiviral, immunostimulant and antiseptic qualities Calendula is truly a spectacular botanical, use it as a disinfectant and treatment for minor wounds such as bruises, cuts, chapped or chafed skin, yeast infections, bee stings, and even athlete's foot and skin irritations.
This healing herb minimizes scarring and stretch marks by assisting in the production of collagen at wound sites and is gentle enough for use on babies, children, or animals making it an ideal treatment for diaper rashes, skin problems and infections.
These babies are regarded as regular maintenance plants and this is mainly due to their annual categorization and fast growth rate. Remember that proper maintenance is always rewarding.
Feed them every 14 days, preferably with an organic water-soluble fertilizer. Deadhead and water regularly and remember to pinch out the growth tips of new plants to stimulate bushy growth and additional blooms. Calendulas tend to be quite vulnerable when it comes to pests so keep an eye out for the Aphids, slugs and snails, powdery mildew may also be a problem in damper conditions.
Planting Calendula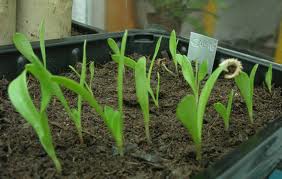 Plant Calendulas in almost any soil and position the in full to semi sun, but make sure your soil is well-drained and that they don't dry out between waterings. Sow these golden goodies directly into your beds during autumn and cover remember to water well and space seedlings once they emerge.
Try this Calendula oil recipe:
You will need:
Organic olive oil
Calendula flowers
Sterilised sealable glass jar
Method :
Place the calendula flowers in the jar (should you use fresh flowers wilt them outside the jar for at least 12 hours so doing removing most of the moisture)
Pour the olive oil into the jar ensuring to cover the flowers by at least 2.5 cm to accommodate their expansion
Place the jar on a warm sunny windowsill and shake once a day, within 4-6 months strain the flowers from the oil rebottle and store in a cool dark place.

The faster alternative:
Place the flowers and oil in an appropriate container and heat over the stovetop at 30 to 40 degrees Celsius for at least 12 hours (check regularly not to overheat) after which the oil should be bottled and stored.