Get outdoors this Autumn! Here is a fun article of Autumn gardening ideas to inspire you.
A world of fascination awaits in your garden…
Whether you have a vast expanse of garden, a townhouse patch or even a bitty balcony with a few pots, you'd surely be most grateful for the greenery you have.
As a human race, we are facing unprecedented times, where out of necessity and concern for the health and well-being of others and ourselves.
An opportunity presents itself to spend more time outdoors, observing and learning from nature as we tend to our green spaces.
Gardens have become a lot smaller over the years and to extend our growing spaces and flex our green thumbs, we have added a variety of pots, troughs and other raised planters into our urban sanctuaries.
Autumn is an excellent time to spend in the garden as climatic conditions are most favourable for plants and gardeners. Gone are the heady days of hot summer sunshine which challenges any new planting to survive the extremes of hot, windy and dry conditions. Once the frosty winter appears, your cold season plants are well established and growing vigorously so they welcome their favourite conditions.
So, let's celebrate Autumn by planting up an organic garden, container or basket, adding health and colour into our personal living spaces with a variety of foliage, flowers, vegetables, herbs and berries.
THE BOLD & BEAUTIFUL
Mass palnt seedlings
For gardens of all sizes plant up a focal point of colour seedlings in a bed, a border or swathes of colour in large gardens. Use colour themes to express yourself, use red and white for striking drama, or combine gentle pastel pinks, mauves and dainty whites for a soft, romantic feel, or choose vibrant blues, yellows, oranges and whites for lively appeal.
TIP: The colour palette in your Garden Centre is endless and every new season can be used to re-decorate with a new look and feel using colour, texture, shapes and seedling varieties.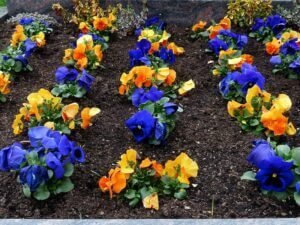 HOW TO PLANT COLOUR / VEGETABLE BEDS:
It is best to prepare planting beds before buying seedlings to ensure that seedlings are fresh, strong and vigorous when planted out by:
Clearing out old plants, weeds and trimming back shrubs and tree branches that could block out sunlight for sun loving seedlings or choose a semi-shade or light but shady area for shade loving plants.
Condition soil by digging in 1 Litre of good quality compost or 250ml of worm castings per m2. If soil is acidic, add 1 cup of agricultural lime per m2 to adjust Ph, then level out bed surface with a rake in preparation for planting.
Sprinkle 1kg of seedling food for every 5m2 of soil surface OR add 2.5ml per planting hole when planting out seedlings.
Make planting holes deep enough to ensure that seedling roots are completely covered as soil will settle after watering.
Water every day until roots are established. Thereafter adjust to 2 to 3 days per week
To extend flowering, after 3 months' sprinkle 1kg seedling food per 5m2 over planted beds.
THE SMALL & SASSY
"Limited by space" has never been a good enough excuse to stop the creatives from planting a garden.
HOW TO PLANT CONTAINER GARDENS:
Make the best of a small space by buying striking containers to plant up or think of creative ways to recycle containers like tin cans, old pots, growing bags, jars or baskets. Why throw away when you can beautify!
To prepare containers for planting:
Ensure that container has good water drainage to prevent root rot and disease conditions. Punch holes in cans or place small stones, broken crockery pieces or hard nut shells in container base for drainage.
Fill container with potting soil to which you have added 100ml of worm castings and 20ml of seedling food/10ml of fertilizer per Litre to enrich and improve water holding capacity of potting medium OR mix your own by using this recipe per 1 Litre, 1/3 compost to 1/3 topsoil to 1/3 worm castings. Add 20ml seedling food/10ml fertilizer and 30ml dolomitic lime to potting mix.
Make planting holes deep enough to cover the roots of seedlings, as soil will settle after watering.
Water well after planting, and every day for the 1st 2 weeks to ensure that roots establish well. Thereafter water 2 or 3 times a week as required to ensure bountiful blooms and healthy abundant harvests.