5 best plants to grow for Christmas
These are our favorite plants to use in and around the home in the christmas season
It's beginning to look a lot like Christmas! As the holidays approach, one of the best ways to spread some holiday cheer is to decorate your home.
December is here and Christmas is in the air, it's a time for rest and a time for family. Use our top 5 plants to grow for Christmas as a guide to beatify your garden, the entrance to your home or as creative living table decorations. Combine these plants with Christmas lights, some ornaments, and the normal Christmas decorations to delight your guests and help set the tone for that special Christmas ambiance.
1

Hydrangeas
Use Hydrangeas to decorate your home this Christmas.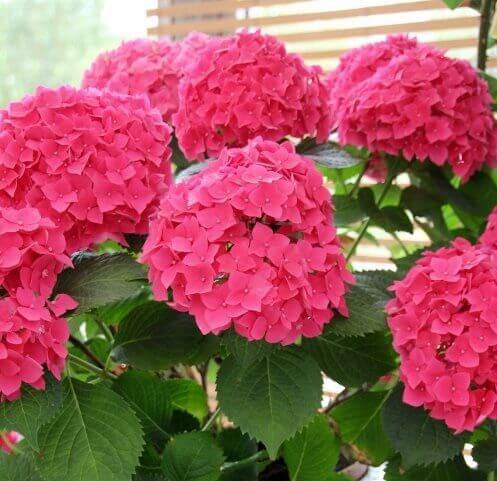 Hydrangeas are a beautiful Christmas decoration for both inside and outside of your home.
Well known as a Christmas rose in South Africa these stunners are absolutely spectacular this time of year, plus they make an excellent addition to the garden once the Christmas fever has passed.
There are many ways to incorporate these beautiful flowers into your holiday decor from floral arrangements to creative planting at the entrance of your home or feature pieces in creative containers.
2

Poinsettias aka Euphorbias
Many consider poinsettias the official Christmas flower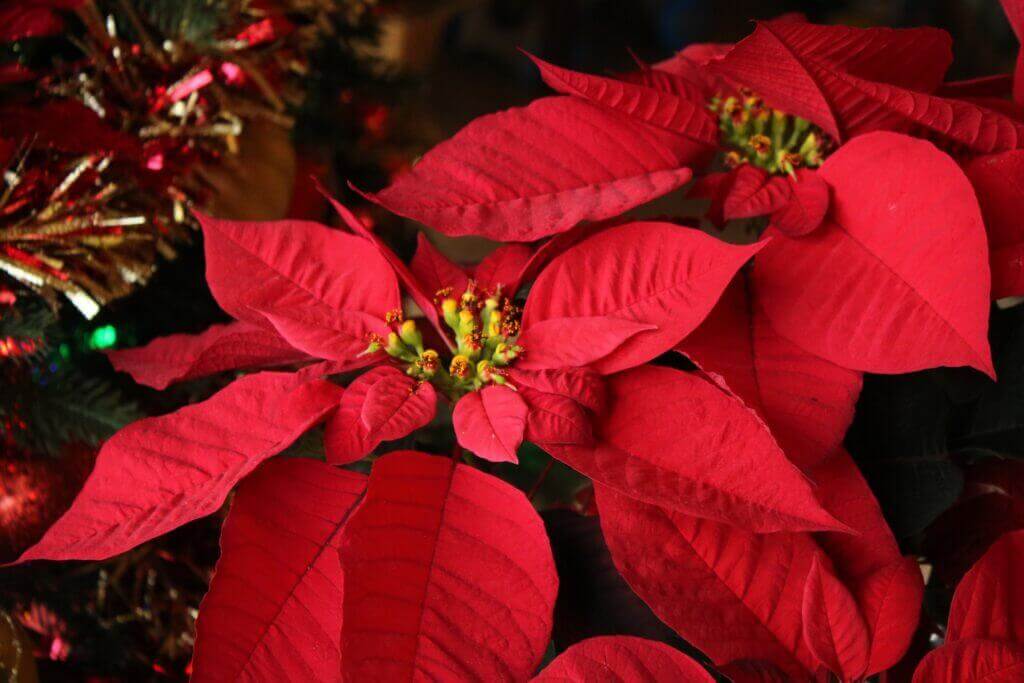 Poinsettias are synonymous with Christmas.
Plant and pot poinsettias this Christmas season for that warm loving Christmas spirit.
Around the holidays, poinsettias are available to fit into practically every style of decoration. They come in a variety of colors, including bright red, pink, and creamy white. Some varieties have bracts with patterns in red, pink, green, white.
Interesting Info:
Some people believe that the poinsettia's flower and leaves represent the Bethlehem Star, which guided the Wise Men to Jesus. The blood of Christ is represented by the red-colored leaves. The white leaves stand for his innocence.
3

Amaryllis
Flowering Amaryllis are a Christmas favorite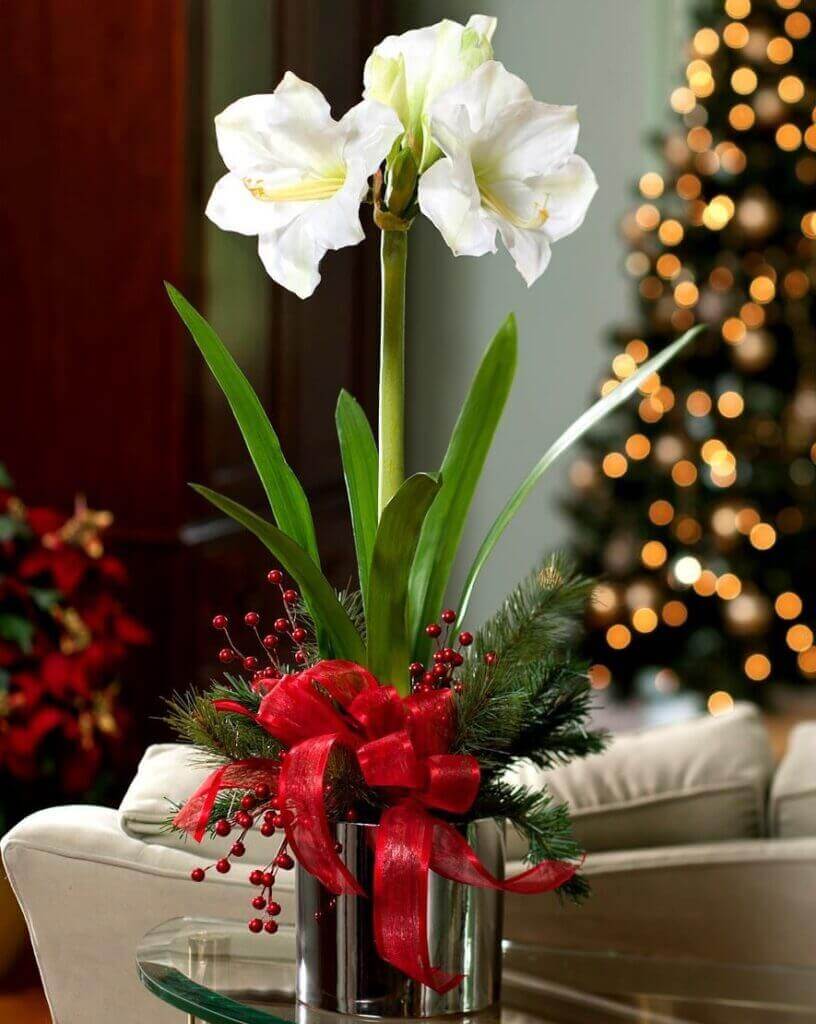 Amaryllis bulbs bloom in the spring, they are frequently cultivated as indoor plants to force them to bloom in time for Christmas.
Display flowering amaryllis bulbs in groupings of threes and fives at the entrance of your home or as table decorations or place three flowering Amaryllis bulbs spaced evenly along a runner on the Christmas table make a spectacular display.
See our article on How to grow Amaryllis bulbs indoors in 6 steps here
4
Euphorbia Diamond Frost PBR & TM
Use this Euphorbia to resemble snow in your living Christmas decorations.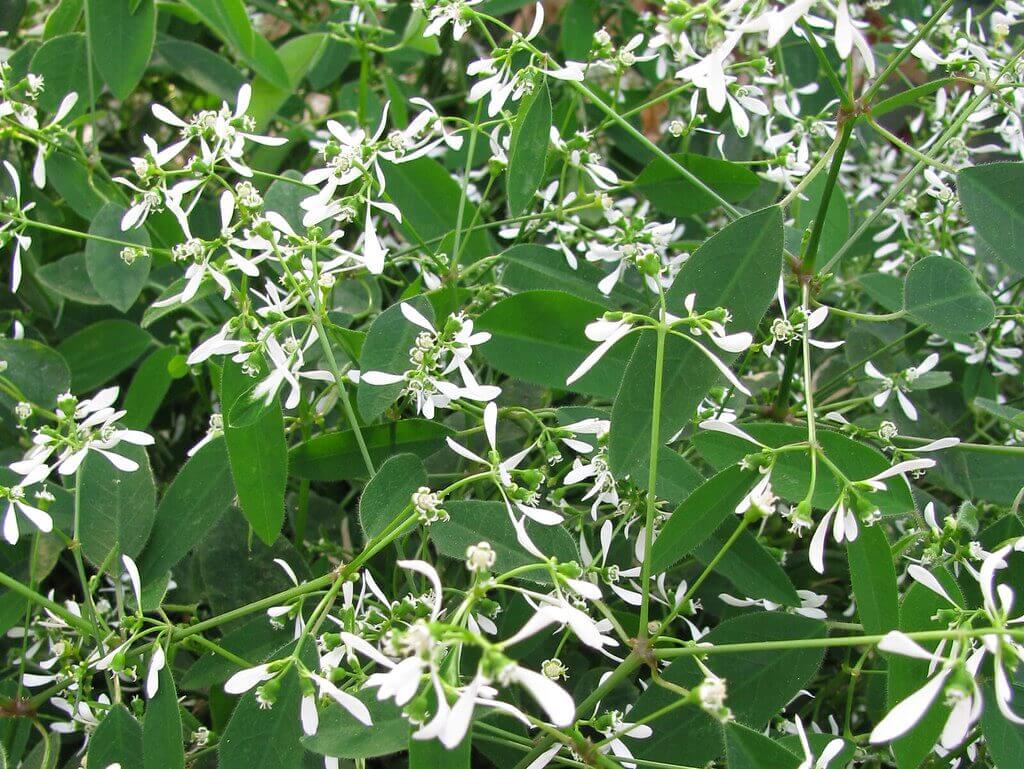 Plant Euphorbia amongst containers or stand them alone for a soft dainty air in the atmosphere.
Euphorbia Diamond Frost PBR & TM brings a dainty soft texture to your Christmas planting and décor. Even though we as South Africans don't know a "white Christmas" this plant could represent the snow we so strongly associate with Christmas time from the western culture.
This non-invasive Euphorbia blooms all season with clouds of light, white flowers. This little gem grows well in landscapes and containers and once again makes a good addition to the garden after your Christmas party.
5

Rosemary
Use a Rosemary plant as a Christmas tree or the sprigs as part of your décor.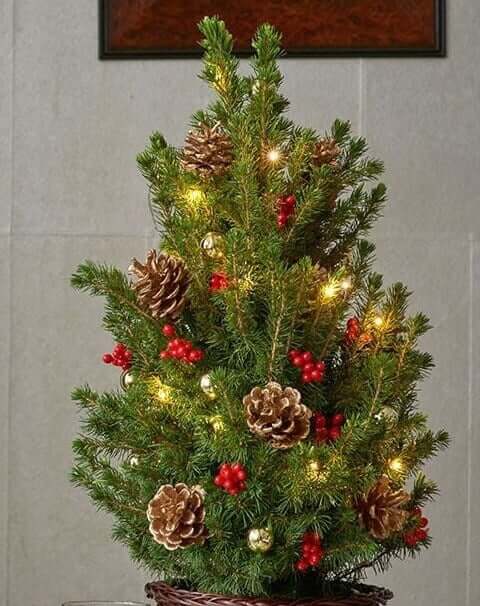 Rosemary is a versatile holiday performer, use it as table décor or even shape your own Rosemary Christmas tree.
A rosemary plant in a pot is easily transformed into a tabletop Christmas tree.
Select one with a tapered shape, give it a rough prune and add tiny, sparkling lights with an odd charismas ball or two and you have yourself a unique little Christmas tree you could even give away as a living gift on the special day.
Sharing is caring
Thank you for being part of the PlantInfo family, together we grow for life to make the world a better place.
If you enjoyed this article, please share it with your friends on social media and let's guide them to use plants and gardening for a happier, healthier and stress-free lifestyle.
Be a green superhero it's the right thing to do.